Membuat Projek AI Lebih Cepat Dengan Intel NCS 2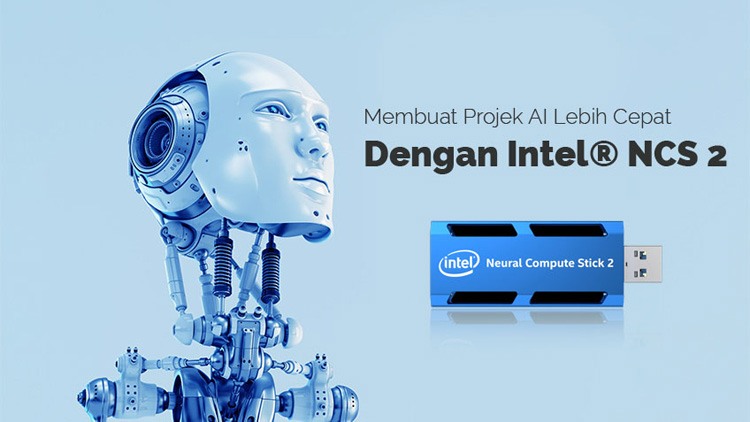 Jika diamati, beberapa tahun belakangan ini perkembangan perangkat yang mengusung teknologi kecerdasan buatan atau biasa dikenal dengan sebutan Artificial Intelligence (AI) semakin pesat peredarannya. Pengaplikasian AI saat ini bisa dapat dengan mudah ditemui pada kamera smarphone, virtual assistant, games, jaringan komputer, robotika, dan masih banyak lagi.
Bicara soal AI, Intel® adalah salah satu perusahaan yang gencar melakukan kampanye dan pengembangan teknologi AI. Beberapa produk untuk tujuan pengembangan AI telah beberapa kali diluncurkan oleh Intel®. Salah satu produk yang paling menarik adalah Intel® Movidius™ Neural Compute Stick (Intel® NCS).
Apa itu AI dan Intel® NCS)? Mari kita bahas satu per satu.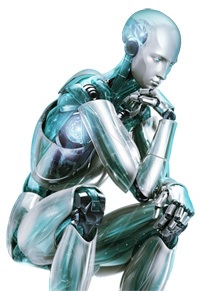 AI (Artificial Intelligence).
AI sebenarnya adalah kecerdasan buatan yang dibuat oleh manusia dan ditanamkan pada suatu mesin / robot. Dengan adanya AI ini, maka mesin / robot memiliki kemampuan untuk melakukan analisa data yang diberikan, mengolahnya dan menghasilkan / melakukan output yang sesuai dengan keinginan kita. Dengan AI pula, memungkinkan mesin / robot ini untuk mengembangkan kemampuannya sendiri dengan berdasar pada data-data yang pernah diterima.
Intel® Movidius™ Neural Compute Stick (Intel® NCS).
Intel® NCS ini adalah alat yang kurang lebih seukuran USB flash disk. Berfungsi untuk mempercepat proses komputasi / perhitungan dalam mengeksekusi / mengambil kesimpulan pada neural network. Hal ini akan sangat dibutuhkan di dalam pembuatan AI.
Di dalam Intel® NCS ini terdapat VPU (Vision Processing Unit) Intel® Movidius™ Myriad™ 2. Yang di dalamnya terdapat 4GB DRAM LPDDR3, akselerator image dan vision serta beberapa prosesor SHAVE (Streaming Hybrid Architecture Vector Engine). Prosesor-prosesor SHAVE ini digunakan untuk mengakselerasi neural network dengan cara menjalankan tiap-tiap bagiannya secara paralel.
Pemasangan Intel NCS ini sangatlah sederhana, tinggal ditancapkan pada USB port yang ada pada PC, laptop bahkan Raspberry Pi.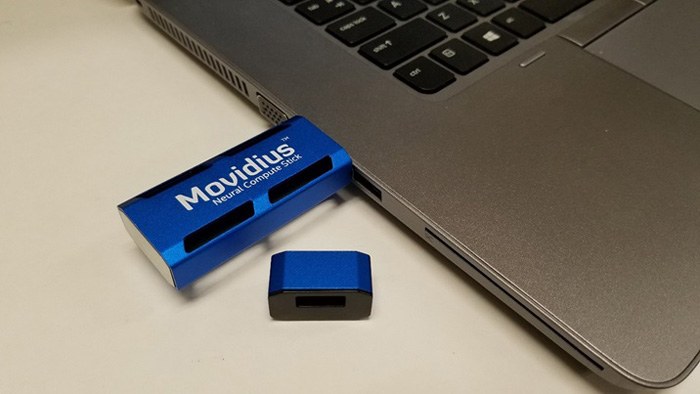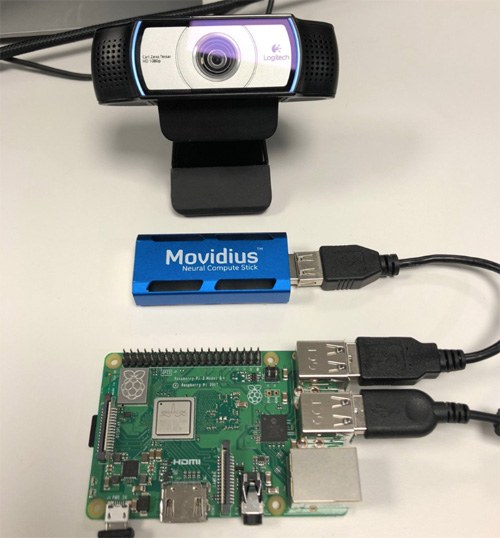 Intel® Neural Compute Stick 2 (Intel® NCS 2).
Pada November pertengahan 2018, Intel® kembali meluncurkan penerus Intel® NCS yaitu Intel® NCS 2. Intel® NCS 2 ini menggunakan Intel VPU generasi terakhir, yaitu Intel Movidius™ Myriad X, yang mana pada versi ini sudah didukung Intel® distribution of the OpenVINO toolkit.
Pihak Intel sendiri mengklaim bahwa Intel® NCS 2 ini lebih mudah diuji, dikonfigurasi, dan digunakan untuk pengembangan prototype deep neural network, dengan performa 8x lebih baik dibanding versi pendahulunya, Intel® NCS. Intel® juga berkata bahwa vision accelerator pada Intel® NCS 2 ini dapat memudahkan developer untuk mengembangkan smart camera, industrial robots, dan Internet of Things (IoT).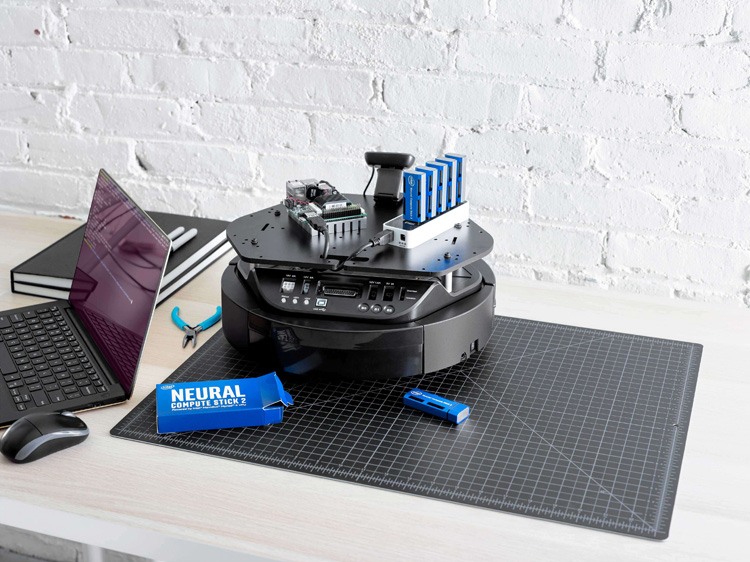 Perbandingan Fitur Intel® NCS 1 dan Intel® NCS 2
Intel® NCS

Menggunakan VPU Intel® Movidius™ Myriad™ 2
Ditenagai 12 VLIW 128-bit vector SHAVE Processors yang dioptimalkan untuk machine vision
Akselerasi hardware yang dapat dikonfigurasi untuk pengolahan gambar, dengan line-buffers yang mengaktifkan akses mode zero local memory ISP.
Mendukung operasi 16/32-bit floating point dan 8/16/32-bit integer.
Homogeneous, arsitektur memori terpusat; 2MB of on-chip memory
Bandwidth memori internal 400 GB/sec
256 KB L2 Cache
Disediakan RAM berkapasitas 4 Gb LPDDR3

Intel® NCS 2

Menggunakan VPU Intel® Movidius™ Myriad™ X
Mampu melakukan hingga 4 Trillion Operation Per Second (TOPS)
Ditenagai 16 VLIW 128-bit vector Processors yang dioptimalkan untuk computer vision
Menggunakan lebih dari 20 akselerator hardware untuk melakukan tugas kompleks seperti optical flow dan stereo depth.
Mendukung hingga koneksi 8 buah kamera RGB HD dan 4K encoding dengan kemampuan pemrosesan gambar 700 juta piksel per detik.
Homogeneous, arsitektur memori terpusat; 2.5MB of on-chip memory
Bandwidth memori internal 400 GB/sec
Disediakan RAM berkapasitas 4 Gb LPDDR4
Contoh Projek Pengaplikasian Intel® NCS dan Intel® NCS 2
Clean Water AI

Berdasarkan data dari World Health Organization (WHO), seorang bayi yang baru dilahirkan di seluruh dunia meninggal setiap menitnya karena kurangnya pasokan air yang aman untuk dikonsumsi serta faktor lingkungan yang kotor. Menanggapi hal ini, seorang developer asal Amerika, Peter Ma, membangun sebuah sistem kecerdasan buatan (AI) yang dapat mendeteksi bakteri-bakteri berbahaya yang terkandung dalam air secara real-time, tanpa perlu terkoneksi langsung ke cloud server.

Prototype projek Clean Water AI ciptaan Peter Ma ini dibuat dengan menggunakan Intel® Movidius™ Neural Compute Stick dengan tingkat akurasi mencapai 95%. Kedepannya, alat ciptaan Peter Ma ini diharapkan dapat dikembangkan lebih lanjut guna mengatasi krisis kasus kematian bayi akibat kebersihan air di seluruh dunia.

BlueScan AI

Berdasarkan data dari CDC, kanker kulit adalah jenis kanker yang paling Umum ditemukan di Amerika Serikat, dengan lebih dari 80.000 kasus yang terjadi di tahun 2015.

Setelah pernah kehilangan teman akibat kanker kulit, Peter Ma berinisiatif mengembangkan suatu sistem yang ia beri nama BlueScan AI. BlueScan AI merupakan suatu sistem bertenagakan kecerdasan buatan dari Intel® Movidius™ Neural Compute Stick yang berfungsi untuk melakukan pemindaian sel kanker di kulit secara real-time.

BlueScan AI dapat membedakan antara sel kanker dan lesi jinak di kulit dengan menggunakan metode image processing yang kompleks. Dengan adanya sistem ini diharapkan sel kanker kulit dapat terdeteksilebih dini supaya bisa mendapatkan penanganan medis yang tepat sesegera mungkin.

NSFW as a Service

Seorang inovator asal Austria, Christian Haschek, menggunakan teknologi AI dari Intel® Movidius™ Neural Compute Stick untuk membangun suatu sistem yang dapat memindai konten-konten gambar yang mengandung unsur pornografi. AI pada sistem ini bekerja dengan cara menganalisa gambar yang Anda upload dan mengelompokkannya menjadi gambar pornografi atau bukan.

Clean Water AI

American Sign Language (ASL) adalah suatu bahasa isyarat yang banyak digunakan oleh orang tunarungu dan tunawicara di Amerika, khususnya Amerika Utara untuk berkomunikasi dengan orang lain. ASL dilakukan Dengan cara mengkombinasikan gerakan tangan, ekspresi wajah, dan Gerakan tubuh untuk menyampaikan pesan yang dimaksud.

Terinspirasi dari hal ini, Adam Milton Baker, seorang developer asal Spanyol membuat suatu sistem yang dirancang untuk menterjemahkan ASL secara Otomatis dengan memanfaatkan teknologi AI dari Intel® Movidius™ Neural Compute Stick.
Sebenarnya masih banyak projek-projek berkaitan dengan AI lain yang dapat dibuat dengan memanfaatkan teknologi dari Intel® Movidius™ Neural Compute Stick, sekarang tinggal bagaimana Anda memanfaatkan dan mengembangkan teknologi yang sudah ada tersebut untuk kepentingan orang banyak.
Selamat Mencoba!!!
All trademarks, company names, product names and trade names are the property of their respective owners. All softwares are copyright by their respective creators and/or software publishers.
---