Teknologi Augmented Reality Dalam Dunia Nyata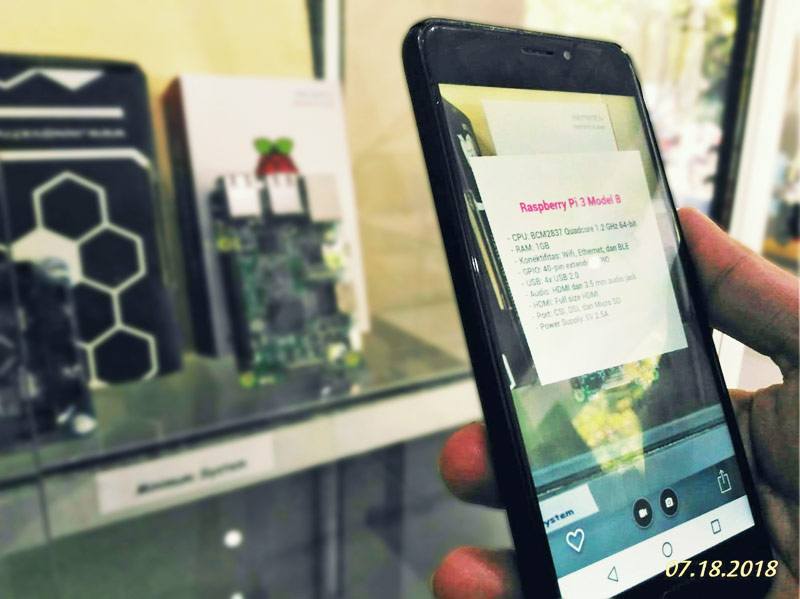 Augmented Reality atau yang biasa disingkat AR adalah suatu teknologi yang dapat memproyeksikan objek digital ke dalam dunia nyata secara real-time dengan memanfaatkan bantuan kamera, sensor, atau GPS yang ada pada perangkat penampil AR. Konsep teknologi ini sebenarnya sudah ada sejak tahun 90-an untuk keperluan militer dan komersial, namun seiring dengan berkembangnya teknologi internet dan smartphone, teknologi AR seolah terlahir kembali dengan tampilan yang lebih fresh, atraktif, dan interaktif bagi penguna.
Sejarah Augmented Reality
1960-an - Pada tahun 1968 ilmuan komputer asal Amerika Ivan Sutherland bersama muridnya Bob Sproull menciptakan perangkat Head-Mounted Display (HMD) pertama yang diberi nama The Sword of Damocles.
1970-an - Pada tahun 1975 Myron Krueger menciptakan Videoplace, sebuah laboraturium Artificial Reality yang dapat menampilkan interaksi objek digital berdasarkan gerakan manusia. Teknologi ini kemudian digunakan pada proyektor, kamera, dan layar siluet.
1980-an - Pada tahun 1980 Steve Mann mengembangkan komputer portabel pertama yang dirancang untuk diletakkan di depan mata yang kemudian diberi nama EyeTap. Perangkat ini merekam adegan yang nantinya akan ditumpangkan efek layer digital yang dihasilkan dari Computer-Generated Imagery. Pengguna dapat berinteraksi dengan alat tersebut melalui gerakan kepala. Kemudian di tahun 1987 Douglas George and Robert Morris mengembangkan prototipe Heads-Up Display (HUD) yang dapat menampilkan data astronomis di langit secara real-time.
1990-an - Tahun 90-an bisa dikatakan sebagai tahun lahirnya teknologi AR. Teknologi ini mulai dikenal luas semenjak diperkenalkan oleh peneliti dari Boeing Company, Thomas Caudell and David Mizell. Kemudian di tahun 1992 Louis B. Rosenberg menciptakan sistem AR yang diberi nama "Virtual Fixtures" untuk keperluan U.S. Air Force pada kala itu. Di tahun 1999 sekelompok peneliti yang dipimpin oleh Frank Delgado and Mike Abernathy melakukan uji coba software navigasi yang dapat menampilkan data jalan yang diambil dari helikopter.
2000-an - Tahun 2000 ilmuan asal Jepang Hirokazu Kato menciptakan SDK untuk pengembangan AR. Pada 2004 Trimble Navigation menghadirkan perangkat AR outdoor dengan sistem helmet-mounted. Tahun 2008 Wikitude mengembangkan software AR Trave Guide untuk perangkat android.
AR Hari Ini - Di tahun 2013 Google melakukan BETA test terhadap Google Glass. Dua tahun kemudian tepatnya 2015, Microsoft meluncurkan dua teknologi AR sekaligus, Windows Holographic dan HoloLens (kacamata AR dengan bebagai sensor untuk menampilkan hologram). 2016 Niantic merilis game mobile berbasis AR, Pokemon Go
Yang mendadak viral di kala itu.
Perbedaan VR dan AR
Virtual Reality (VR) adalah teknologi yang dapat mensimulasikan suatu lingkungan atau situasi buatan komputer yang membuat pengguna seolah-olah berada, melihat, dan mendengar apapun yang terjadi di lingkungan buatan tersebut. Untuk merasakan teknologi ini umumnya diperlukan perangkat khusus bernama VR Box,misalnya seperti Oculus Rift, Samsung Gear VR, Google Cardboard, dsb.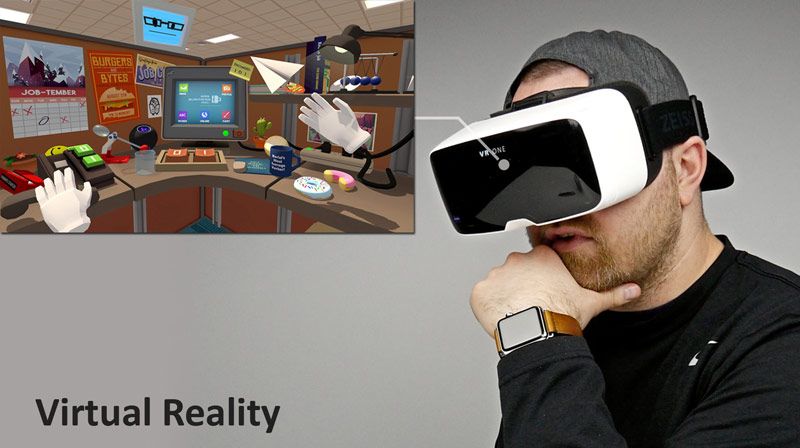 Gambar 1 - Ilustrasi Virtual Reality
Beda halnya dengan VR yang menggantikan pandangan keseluruhan pengguna ke dalam lingkungan buatan komputer, Augmented Reality (AR) hanya menambahkan layer digital ke dalam lingkungan nyata yang dilihat oleh pengguna secara real-time. Untuk merasakan teknologi ini pengguna dapat menggunakan smartphone/tablet atau perangkat AR tertentu.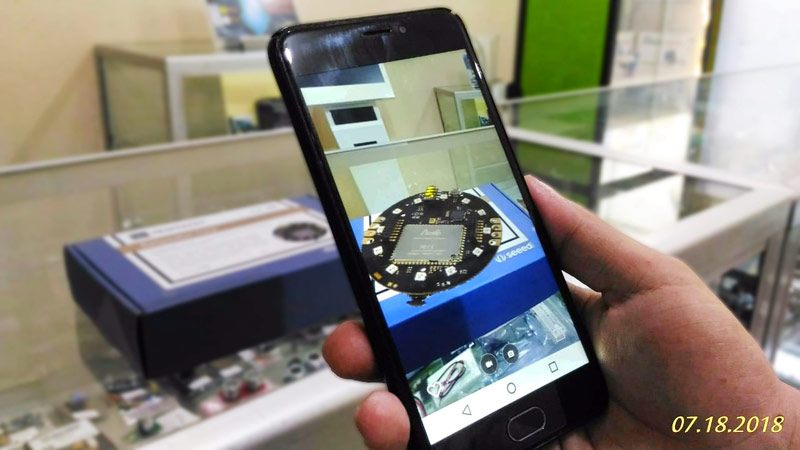 Gambar 2 - Ilustrasi Augmented Reality
Pengaplikasian AR dalam Dunia Nyata
Pemasaran Produk

Dalam dunia marketing modern, beberapa perusahaan mulai menerapkan teknologi AR untuk meningkatkan interaksi konsumen dengan produk yang mereka pasarkan. Salah satunya adalah perusahaan funiture ternama asal Swedia, IKEA.

IKEA menggunakan teknologi AR supaya konsumen dapat mencoba langsung meletakkan produk-produk funiture IKEA di tempat atau sudut ruangan yang mereka inginkan dengan memanfaatkan aplikasi mobile yang mereka buat.

Gambar 3 - Pengaplikasian AR untuk Pemasaran Produk

Game


Tahun 2016 silam game mobile berbasis Augmented Reality ini mendadak booming di kalangan masyarakat. Game dengan konsep unik ini sukses menarik minat masyarakat untuk memainkannya, terbukti dengan revenue yang mereka peroleh di tahun 2018 ini mencapai 1.8 milyar USD.

Gambar 4 - Game Berbasis Teknologi AR

Hiburan

Teknologi AR juga dapat digunakan sebagai sarana hiburan, salah satunya adalah fitur AR effect yang ada pada aplikasi kamera smartphone Sony. Dengan fitur tersebut pengguna dapat melihat objek-objek AR seperti dinosaurus, kurcaci, ikan, dan lain sebagainya bergerak-gerak di layar smartphone mereka sekedar untuk mengusir rasa bosan.

Gambar 5 - Aplikasi AR untuk Sarana Hiburan

Edukasi


Penerapan teknologi AR dalam edukasi dapat meningkatkan pemahaman siswa terhadap materi yang mereka pelajari. Karena dengan teknologi ini, siswa dapat berinteraksi langsung dengan objek yang mereka pelajari secara visual.

Gambar 6 - Aplikasi AR untuk Edukasi
Dan masih banyak lagi pengaplikasian teknologi AR yang tidak dapat kami rincikan satu per satu. Jika Anda penasaran dengan teknologi AR ini, Anda dapat mencobanya secara langsung dengan cara mengunduh aplikasi-aplikasi AR yang tersedia untuk smartphone melalui Google Play Store (Android) atau App Store (iOS).
Selamat Mencoba!
All trademarks, company names, product names and trade names are the property of their respective owners. All softwares are copyright by their respective creators and/or software publishers.
---