Memanfaatkan Bluetooth Low Energy Pada Arduino 101 Untuk Sistem Otomasi Rumah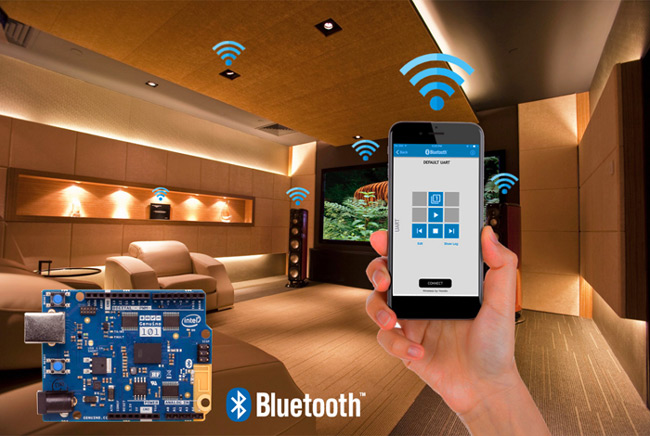 Gambar 1 Ilustrasi Sistem Otomasi Rumah Berbasis Arduino 101
Apa yang terlintas di benak Anda ketika mendengar kata "Bluetooth"?
Transfer file antar perangkat? Handsfree dan perangkat audio wireless? Atau mouse dan keyboard wireless? Mungkin sebagian besar orang akan menjawab hal serupa. Namun tahukah Anda bahwa bluetooth ternyata bisa melakukan banyak hal lebih dari itu. Di era digital ini fungsi bluetooth telah merambat ke berbagai bidang teknologi. Salah satu yang sedang hangat diperbincangkan adalah pemanfaatan bluetooth untuk sistem otomasi rumah.
Oleh karena itu pada artikel kali ini kita akan mencoba membuat sistem otomasi rumah sederhana dengan memanfaatkan teknologi bluetooth Low Energy (BLE) sebagai pondasi untuk membangun sistem tersebut. Perangkat utama yang akan kita gunakan adalah Arduino 101. Arduino 101 merupakan produk unggulan Arduino yang telah terintegrasi dengan built-in bluetooth Low Energy module serta spesifikasi yang terbilang wah untuk mikrokontroler di kelasnya. Kami memilih perangkat ini karena ukurannya yang compact dan spesifikasi yang ditawarkannya pun sudah sangat mendukung untuk membangun sistem otomasi rumah sederhana ini.
Dilansir dari situs Bluetooth.com, koneksi BLE yang terdapat pada Arduino 101 dan perangkat BLE lainnya menawarkan topologi koneksi Point-to-Point (P2P) dengan data rate yang stabil, kompatibel dengan berbagai perangkat (multiple platform), mampu melakukan pertukaran data dengan jarak yang cukup jauh (±100 meter LoS), serta menawarkan konsumsi daya yang sangat rendah untuk menghasilkan durabilitas dan efisiensi daya yang tinggi. Dengan semua keunggulan yang ditawarkan oleh BLE, teknologi ini berpeluang besar menjadi pondasi utama untuk membangun sistem otomasi rumah dan perangkat wearable di masa mendatang.
Kembali ke pokok pembicaraan, sebelum kita membuat sistem otomasi rumah berbasis Arduino 101, ada beberapa alat dan bahan yang perlu dipersiapkan terlebih dahulu.
1. Alat dan Bahan
A. Arduino 101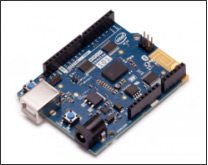 Gambar 1.1 Arduino 101
Arduino 101 merupakan board mikrokontroler bertenagakan prosesor Intel® Curie™ 32-bit 32 MHz yang telah terintegrasi dengan Bluetooth Low Energy (BLE) serta sensor IMU (accelerometer + gyroscope). Pada aplikasi ini, Arduino 101 akan kita fungsikan sebagai perangkat kontroler yang akan mengendalikan perangkat input output (I/O) sekaligus perangkat penghubung antar hardware melalui koneksi BLE.
B. 2 Channels 5V Relay Module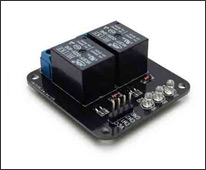 Gambar 1.2 Relay Module
Channels 5V Relay Module2 merupakan modul relay 2 channel (SPDT) yang bekerja pada tegangan 5V. Modul relay ini mampu bekerja pada tegangan maksimal 30 VDC / 250 VAC dengan arus 10 A. Selain itu juga telah dilengkapi 3 buah indikator LED yang berfungsi mengindikasi status catu daya dan kontak dan masing-masing channel relay. Pada aplikasi ini modul relay berfungsi sebagai akselerator yang akan mengontrol nyala matinya beban-beban output berdasarkan intruksi yang diberikan oleh Arduino 101.
C. Kabel Roll dan Beban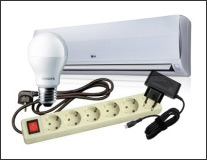 Gambar 1.3 Kabel Roll dan Beban
Kabel roll merupakan perangkat yang umum kita temukan di kehidupan sehari-hari. Kabel roll ini akan kita fungsikan untuk menyalurkan tegangan AC yang didapatkan dari output relay ke perangkat-perangkat beban. Untuk perangkat bebannya bisa dipilih sesuai keinginan Anda, contohnya seperti bohlam lampu, charger handphone, kipas angin, TV, speaker aktif, dan lain sebagainya.
D. Smartphone + nRF Toolbox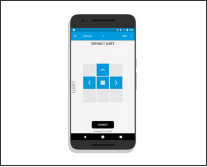 Gambar 1.4 Software nRF Toolbox
Untuk dapat berkomunikasi dengan Arduino 101, kita membutuhkan sebuah smartphone Android / iOS yang sudah mendukung konektifitas Bluetooth Low Energy ditambah sebuah aplikasi bernama nRF Toolbox. Disini nRF Toolbox kita fungsikan sebagai software yang berfungsi untuk mengirimkan perintah berupa value / character tertentu ke Arduino 101 melalui konektifitas BLE. Aplikasi nRF Toolbox dapat Anda unduh secara gratis melalui Google Playstore (Android) dan App Store (iOS).
2. Blok Diagram dan Skematik
A. Blok Diagram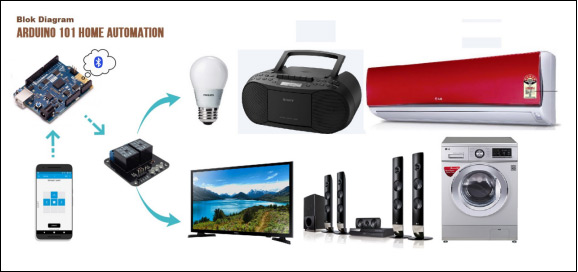 Gambar 2.1 Blok Diagram Sistem Otomasi Rumah Arduino 101
B. Skematik Koneksi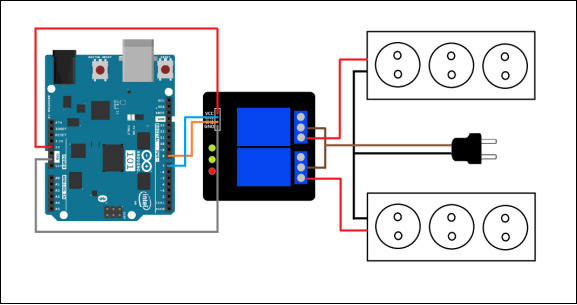 Gambar 2.2 Skematik Koneksi Sistem Otomasi Rumah Arduino 101
3. Prosedur Pembuatan Sistem Otomasi Rumah Berbasis Arduino 101
Download sketch / source code Sistem Otomasi Rumah Berbasis Arduino 101 pada link berikut: Otomasi_Rumah101.ino
Hubungkan Arduino 101 ke komputer / laptop dengan kabel USB printer.
Buka software Arduino IDE lalu klik File - Open - (pilih sketch yang telah didownload sebelumnya)
Upload sketch ke board Arduino 101 dan tunggu hingga proses selesai. (pastikan Anda telah memilih board dan port yang benar)
Kemudian rangkailah semua komponen sesuai skematik diatas.
Download aplikasi bernama nRF Toolbox di Google Playstore atau App Store.
Download file konfigurasi nRF UART pada link berikut: Config.xml
Secara default, tombol-tombol yang ada pada nRF Toolbox (UART) masih berupa "blank button" jadi Anda perlu memodifikasi value dari masing-masing tombol sesuai konfigurasi pada program yang Anda upload ke Arduino. Untuk mempermudah, Anda dapat menggunakan konfigurasi yang telah kami buat. Caranya, buka aplikasi nRF Toolbox, pilih menu "UART", lalu import konfigurasi yang telah didownload tadi (.xml) dengan melakukan langkah berikut.

Gambar 3.1 Import Konfigurasi Tombol

9. Setelah konfigurasi tombol berhasil dimuat, klik tombol "Connect" lalu pilih device dengan nama "Smart101".

Gambar 3.2 Menghubungkan Smartphone Ke Arduino 101

10. Voila! Sistem otomasi rumah berbasis Arduino 101 Anda siap digunakan.
4. Konfigurasi Tombol / Button Mapping
Gambar 4.1 Konfigurasi Tombol




Selamat Mencoba!! :) All trademarks, company names, product names and trade names are the property of their respective owners. All softwares are copyright by their respective creators and/or software publishers.
---