Intel Galileo vs Intel Galileo Gen 2
Intel semakin menunjukkan kiprahnya di dunia embedded system, dengan maksud ingin mengikuti kesuksesan Arduino sekaligus mengungsung misi IoT nya kini Intel meluncurkan varian baru setelah meluncurkan Galileo, kini Intel meluncurkan versi terbarunya yaitu Intel Galileo Gen 2.
Sebelum mengulas perbedaannya, berikut adalah hal yang masih dipertahankan di Galileo Gen 2:
Intel Quark SoC X1000 application processor, a 32-bit, single core, single-thread, Pentium® instruction set architecture (ISA)-compatible CPU, operating at speeds up to 400 MHz.
Support for a wide range of industry standard I/O interfaces, including a full-sized mini-PCI Express* slot, 100 Mb Ethernet port, Micro-SD slot, USB host port, and USB client port.
256 MByte DDR3, 512 KByte embedded SRAM, 8 Mbyte NOR Flash, and 8 Kbit EEPROM standard on the board, plus support for MicroSD card up to 32 MB.
Hardware-/pin-compatibility with a wide range of Arduino Uno R3 shields.
Programmable through the Arduino integrated development environment (IDE) that is supported on Microsoft Windows*, Mac OS*, and Linux host operating systems.
Support for Yocto 1.4 Poky Linux release.
Berikut adalah perbangingan antara Intel Galileo dan Intel Galileo Gen 2: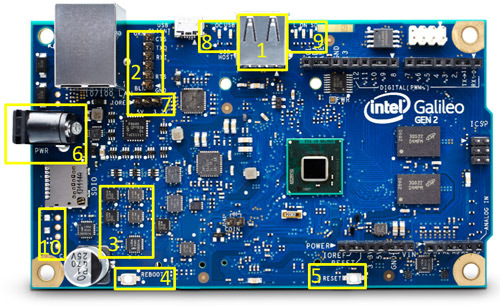 Pembanding
Intel Galileo
Intel Galileo Gen 2
Gambar
Dimensi
10cm x 7cm.
12.4cm x 7.2cm.
1. Slot USB Host
Ya, Mini USB.
Ya, USB Tipe A.
2. UART1 Port
Ya, 3.5mm jack RS-232.
Ya, 6 pin male header TTL.
3. I/O Expander
IC I/O expander 60-bit berbasis I2C Cypress CY8C9540A.
Beberapa IC multiplexer.
4. Reboot Button Location
Sebelah kanan bawah.
Sebelah kiri bawah.
5. Reset Button Location
Sebelah kiri bawah.
Sebelah kanan bawah.
6. Power Supply
5 Volt melalui DC jack.
7 Volt-15 Volt melalui DC jack.
7. Pin IOREF
Ya.
Ya, letaknya dipindah dekat port Ethernet.
8. Indikator USB Activity
Ya.
Ya, diganti menjadi OC LED dan dipindah tata letaknya.
9. Indikator Board
Indikator Power.
Indikator Power, dan Loading.
Fitur tambahan yang tidak disertakan digambar:
PWM
Ya, 6 pin digital I/O bisa diprogram untuk keperluan PWM dengan resolusi 10bit.
Ya, 6 pin digital I/O bisa diprogram untuk keperluan PWM dengan resolusi 12bit.
Sistem Operasi
Yocto 1.4 Poky Linux release.
Yocto 1.4 Poky Linux release, VxWorks (RTOS), Microsoft Windows.
Wyliodrin Platform Support
Tidak.
Ya, memberikan lingkungan Pemrograman C, Python, Node.js, dan Visual dari browser yang terkoneksi dari jauh.
UART1 Redirect
Tidak.
Ya, memungkinkan untuk pengalihan UART1 ke GPIO.
Kit Pengembang Intel IoT
Ya.
Ya, menambahkan dukungan C, C++, Python, dan Node.js/Javascript untuk pengembangan aplikasi Internet-of-Things dengan sensor yang terhubung.
---