Fluke Ti401 Pro: Gadget Thermal Imaging Profesional Yang Nyaman Dibawa Kemana Mana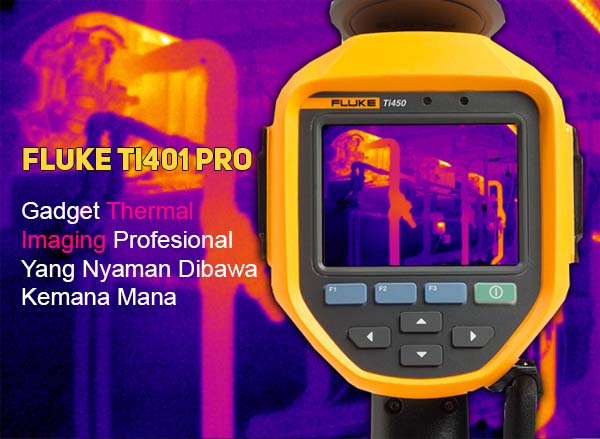 Bagi Anda yang sudah lama berkecimpung di bidang kelistrikan, elektronika, permesinan, dan bidang - bidang teknik lain yang sejenis tentu sudah akrab dengan yang namanya alat instrumentasi. Alat instrumentasi sendiri sangat krusial perannya dalam bidang teknik yang kita tekuni, karena tanpa alat instrumentasi tentunya kita akan mengalami kesulitan dalam mengukur parameter teknis pada alat-alat yang kita gunakan.
Bicara soal alat instrumentasi, Fluke menjadi salah satu yang terdepan dan terbaik dalam berinovasi membuat berbagai macam alat instrumentasi yang kualitasnya sudah diakui secara global. Fluke menyediakan berbagai alat ukur dan instrumentasi berstandar industri, seperti multimeter, tachometer, thermometer, oscilloscope, function generator, thermal imaging devices, dan lain sebagainya.
Pada artikel kali ini kita akan membahas salah satu produk thermal imaging unggulan dari Fluke yaitu Fluke Ti401 Pro. Namun sebelum kita masuk ke pembahasan produk, mari kita membahas sedikit mengenai apa itu thermal imaging supaya kita dapat mendapatkan gambaran mengenai bagaimana cara kerja dari produk yang akan kita bahas.
Apakah Perangkat Thermal Imaging?
Perangkat thermal imaging merupakan sebuah teknologi non-kontak yang dapat mendeteksi jumlah energi inframerah yang dipancarkan oleh suatu objek dan merepresentasikan hasil pembacaan tersebut menjadi visualisasi peta suhu yang warnanya dibeda-bedakan berdasarkan spektrum warna. Dalam perangkat thermal imaging terdapat setidaknya sebuah kamera untuk mendeteksi gelombang inframerah. Gelombang inframerah tersebut nantinya akan diubah menjadi sinyal elektrik yang akan digunakan untuk menghasilkan thermal image dan kalkulasi perbedaan suhu. Sama seperti kamera pada umumnya, kamera pada perangkat thermal imaging juga memiliki lensa, hanya saja pada thermal imaging camera lensa difungsikan untuk memfokuskan energi dari gelombang inframerah ke infrared sensor array. Puluhan infrared sensor array mengubah energi inframerah menjadi sinyal elektrik yang kemudian oleh prosesor pada perangkat thermal imaging dikonversi lagi menjadi false-color thermal image.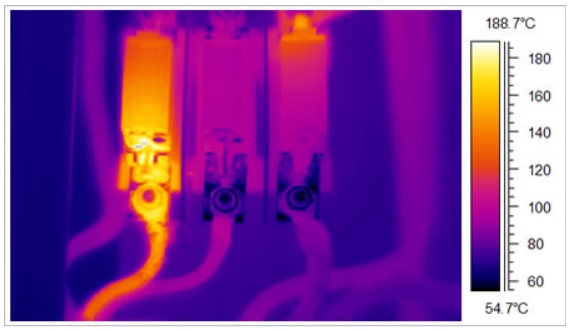 Karena perangkat thermal imaging bersifat contactless maka alat ini bisa digunakan untuk melakukan "temperature mapping" pada beberapa objek sekaligus, bahkan pada objek-objek berbahaya sekalipun seperti pada benda panas, benda yang berputar, cairan kimia beracun, dan lain sebagainya.
Fluke Ti401 PRO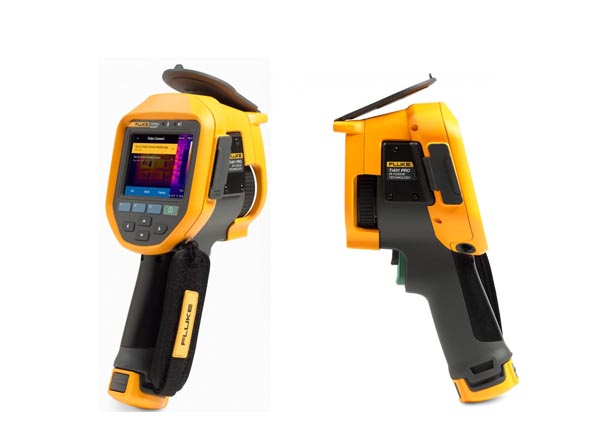 Fluke Ti401 PRO merupakan perangkat thermal imaging profesional dengan akurasi dan kecepatan pembacaan suhu yang tinggi. Fluke Ti401 PRO hadir dengan LCD 3.5 inch beresolusi gambar 640x480 piksel, sehingga dapat menghasilkan gambar thermal imaging yang jernih dan tajam. Desain pistol-grip yang digunakan pada Fluke Ti401 PRO juga memberikan kenyamanan bagi Anda dalam mengoperasikan alat ini dengan satu tangan.
Fitur - Fitur Fluke Ti401 PRO
Resolusi gambar yaitu 640x480

(307,200 pixels)

Menggunakan IFOV dengan standard lens (spatial resolution) of 0.93 mRad, D:S 1065:1

Field of view of 34°(Horizontal) x 24°(Vertical)

Jarak fokus minimum 15 cm

Dilengkapi teknologi LaserSharp autofocus

Dilengkapi laser distance meter

Dilengkapi fitur advanced manual focus

Dilengkapi konektifitas nirkabel

Kompatibel dengan Fluke Connect

Dilengkapi teknologi IR-Fusion

Menggunakan layar LCD 3.5"

Sensitifitas thermal ≤0.075°C pada suhu objek 30°C

Dilengkapi fitur level dan span untuk melancarkan scaling manual dan otomatis

Dilengkapi kamera digital 5 MP

Dilengkapi laser pointer

Dilengkapi LED light (torch)
Spesifikasi
| | |
| --- | --- |
| Memori | 4 GB micro SD, 4 GB flash, USB flash drive |
| Format Gambar | bmp, jpeg, is2 |
| Software | Fluke Connect |
| Export Gambar Ke Fluke Connect | Bitmap (.bmp), GIF, JPEG, PNG, TIFF |
| Remote Display | Ya, melalui Fluke Connect |
| Frame Rate | 60 Hz / 9 Hz |
| Baterai | 2 x lithium ion smart battery packs |
| Masa Pakai Baterai | 2 - 3 jam per baterai pack |
| Waktu Pengisian Daya | 2.5 jam |
| Rentang Deteksi Suhu | -20°C - 650°C |
| Akurasi | ±2°C or 2% |
| Pallete Standar | 9: Rainbow, Ironbow, Blue-Red, High Contrast, Amber, Amber Inverted, Hot Metal, Grayscale, Grayscale Inverted |
| Ultra Contrast Pallete | 9: Rainbow, Ironbow, Blue-Red, High Contrast, Amber, Amber Inverted, Hot Metal, Grayscale, Grayscale Inverted |
| Lensa | Macro-25 Micron Lens: 25 MAC2, 2 x Telephoto Lens: TELE 2, 4 x Telephoto lens: TELE4, Wide angle lens: WIDE 2 |
| Spektrum IR | 7.5 to 14 µm (long wave) |
| Spot Temperatur | Hot and cold spot markers |
| Dimensi | 27.7 x 12.2 x 16.7 cm |
| Teknologi | LaserSharp Autofocus, IR-Fusion |
| Keamanan | IEC 61010-1: Overvoltage category II, Pollution Degree 2 |
| Kompatibilitas Elektromagnetik | IEC 61326-1: Basic EM environment. CISPR 11: Group 1, Class A |
| Australian FCM | IEC 61326-1 |
| US FCC | CFR 47, Part 15 Subpart B |
| Getaran | 0.03 g2/Hz (3.8 g), 2.5 g IEC 60068-2-6 |
| Guncangan | 25 g, IEC 68-2-29 |
| Drop Test | 2 meter (dengan lensa standar) |
| Rating Enclosure | IP54 |
Tangkapan Gambar Jernih dan Tajam
Fluke Ti401 PRO menggunakan kombinasi unik antara resolusi 640 x 480 dengan Field of View (FoV), sehingga menghasilkan fleksibilitas untuk melakukan pengukuran suhu di tempat yang sempit atau bahkan pada jarak yang jauh. Fluke Ti401 PRO mampu melakukan pengukuran suhu pada rentang -20°C - 650°C sehingga sangat cocok untuk diaplikasikan di lingkup industri.
Kemudahan Menentukan Titik Fokus Objek dengan Teknologi LaserSharp™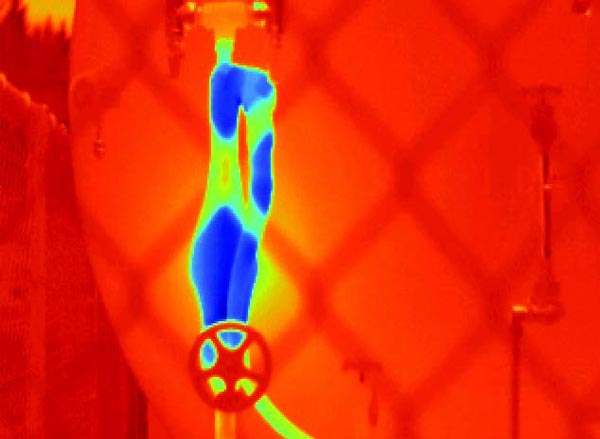 LaserSharp™ adalah teknologi autofocusing yang menggunakan laser untuk menentukan titik fokus objek dengan cepat dan akurat dengan hasil fokus gambar yang tajam. Dengan teknologi LaserSharp™ Anda mendapatkan beberapa keuntungan seperti:
Dapat mendapatkan fokus objek dengan cepat dan akurat untuk menghasilkan gambar yang tajam dan berkualitas tinggi.

Dapat mengambil gambar inframerah meskipun terhalang objek seperti rantai besi.

Menghindari kesalahan pengukuran suhu objek dengan memfokuskan pengukuran ke objek secara spesifik.

Memudahkan proses maintenance yang dilakukan secara berkala, teknologi LaserSharp™ dapat memberikan Anda informasi mengenai seberapa jauh Anda dari objek, sehingga Anda dapat mendapatkan data hasil pengukuran suhu dari waktu ke waktu pada jarak yang konstan.
Menentukan Target dari Beberapa Jarak yang Berbeda dengan MultiSharp™ Focus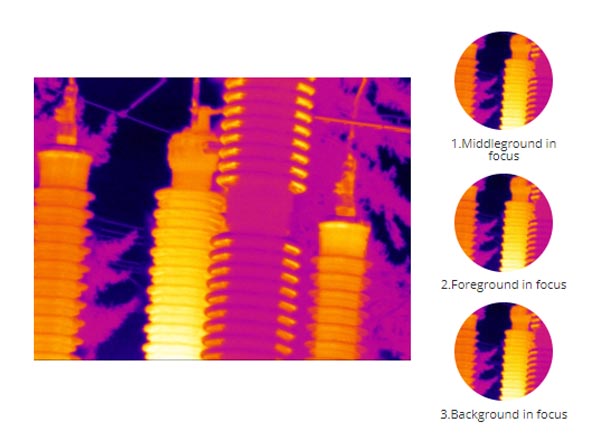 Teknologi MultiSharp™ Focus memungkinkan Anda untuk mengambil gambar dari beberapa jarak fokal yang berbeda, kemudian menggabungkannya menjadi satu gambar yang jelas. Beberapa fitur yang ditawarkan oleh teknologi MultiSharp™ Focus antara lain:
Meningkatkan efisiensi kerja, karena dengan teknologi MultiSharp™ Focus Anda tidak perlu mengambil fokus gambar secara satu per satu terhadap setiap objek yang ingin diukur temperaturnya, cukup fokuskan kamera Anda ke salah satu objek maka objek lain yang berada di Field of View (FoV) kamera secara otomatis akan terfokuskan juga.

Mengurangi waktu yang dibutuhkan untuk mengambil masing-masing gambar.

Kualitas pengambilan gambar tetap akurat meskipun di bawah sinar matahari sekalipun.
Kemudahan Analisa dan Manajemen Data dengan Fluke Connect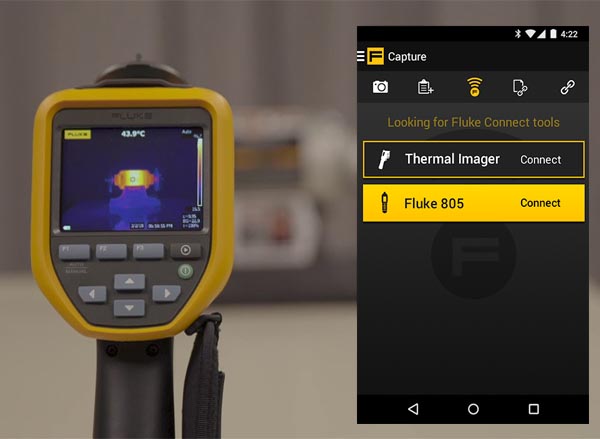 Ketika Anda sedang melakukan inspeksi atau troubleshooting suatu alat di lapangan terkadang perlu melakukan komunikasi dengan rekan tim sesama teknisi untuk melakukan pemecahan masalah. Fluke Connect memudahkan Anda untuk mencatatat kondisi alat yang sedang ditangani secara real time serta memudahkan Anda untuk membagikan data tersebut ke rekan lain, sehingga tercipta kolaborasi untuk memecahkan masalah pada alat dengan maksimal., tersedia untuk versi desktop dan smartphone.
Menangkap Gambar Digital & Inframerah Dalam Waktu yang Bersamaan dengan Teknologi Teknologi IR Fusion™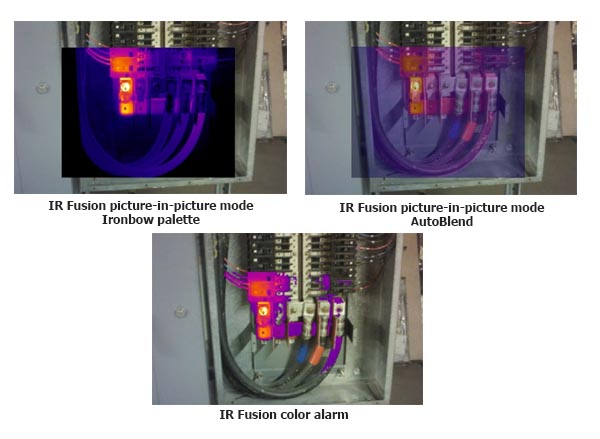 Teknologi IR Fusion™ yang hadir pada Fluke Ti401 PRO memungkinkan Anda untuk mendapatkan data gambar berupa gambar digital dan false-color thermal image secara bersamaan, sehingga Anda dapat melihat suhu objek yang diukur dengan lebih jelas.
Thermal Camera untuk Mendeteksi Kemungkinan Orang Terjangkit Virus Corona
Tahun 2019 baru saja berakhir, namun dunia sudah digegerkan dengan menyebarnya virus mematikan asal Wuhan, China yaitu virus Corona atau biasa disebut COVID-19. Untuk itu setiap negara berusaha keras untuk melakukan upaya preventif guna mencegah masuknya virus ini ke negaranya. Indonesia tak lepas dari salah satu negara yang melakukan upaya ini. Di Indonesia sendiri, filter awal untuk mencegah virus ini masuk ke tanah air yaitu dengan cara memasang perangkat thermal imaging di setiap bandara dan pelabuhan. Umumnya setiap penumpang yang baru turun dari kapal atau pesawat akan dipindai menggunakan perangkat thermal camera, bagi penumpang yang terdeteksi sedang demam maka akan diperiksa terlebih dahulu secara medis untuk memastikan apakah orang tersebut terjangkit virus corona atau tidak.
Semoga Bermanfaat!!!
---