Cara Ampuh Menambah RAM Raspberry Pi Dalam Waktu Kurang Dari 5 Menit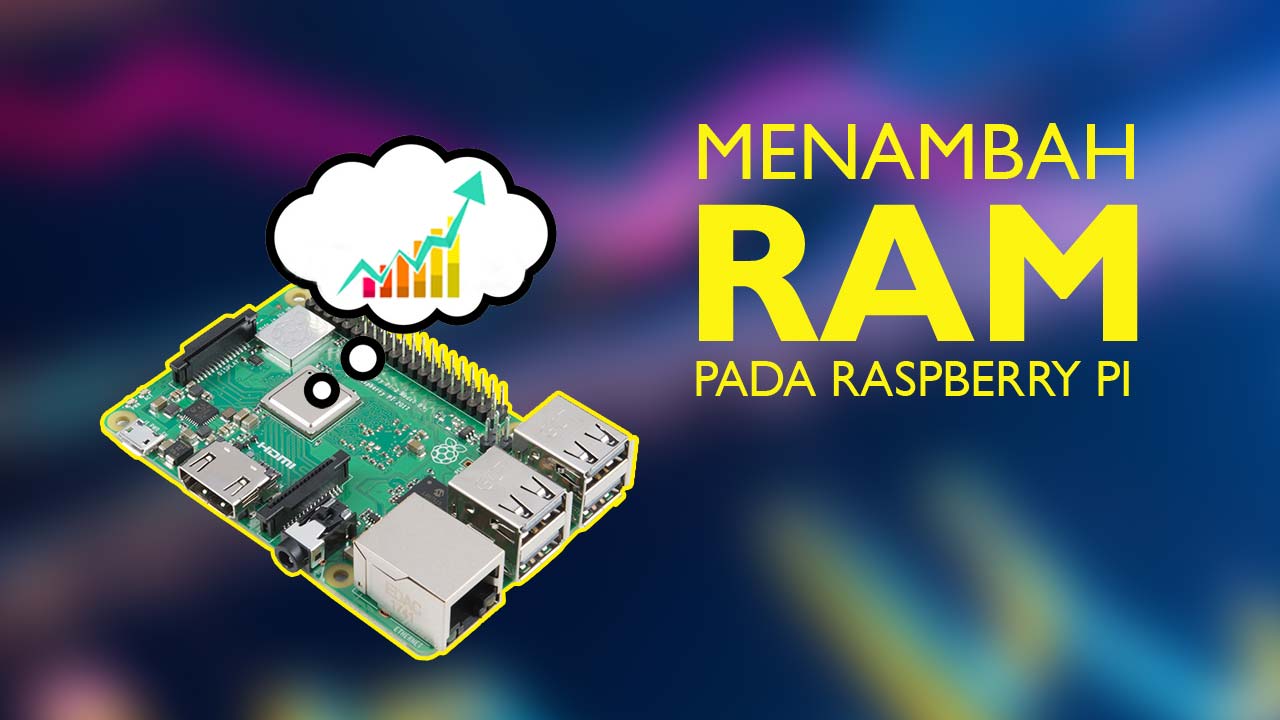 Random Accesss Memory atau yang biasa kita kenal dengan RAM adalah suatu hardware pada komputer yang berfungsi sebagai tempat menyimpan data sementara yang bersifat acak. Saat ini RAM dapat kita temukan dengan mudah pada berbagai gadget di sekitar kita, mulai dari komputer, laptop, smartphone, tablet, mini PC, dan lain sebagainya.
Kapasitas RAM umumnya disebutkan dengan satuan Gigabyte (GB), kapasitas RAM sangat berpengaruh terhadap performa pemrosesan data pada suatau perangkat khususnya dari segi multi-tasking. Semakin besar kapasitas RAM maka semakin banyak pula data sementara yang dapat ditampung dalam satu waktu sehingga performa eksekusi program menjadi lebih cepat. Namun sebaliknya, semakin kecil kapasitas memori RAM maka semakin sedikit pula data yang bisa ditampung dalam satu waktu sehingga pemrosesan data / program menjadi semakin lambat. Ketika data yang harus ditampung/dikelola melebihi kapasitas RAM yang tersedia, tak jarang perangkat menjadi laggy atau bahkan hang akibat RAM terlalu penuh.
Sebagai contoh, Raspberry Pi 3 merupakan mini PC yang dibekali memori RAM berkapasitas 1 GB untuk pengolahan data. Dengan kapasitas memori RAM yang hanya 1 GB terkadang ketika kita membuka banyak aplikasi dalam waktu yang bersamaan, performa Raspberry Pi terasa lebih berat dan terkadang lag. Beruntungnya, Raspberry Pi menggunakan sistem operasi berbasis linux yang mana pada kernel linux sudah disediakan ZRAM, yaitu suatu metode yang dapat digunakann untuk meringankan kinerja RAM fisik.
ZRAM atau yang biasanya disebut dengan compcache adalah suatu modul pada kernel linux untuk membuat blok terkompresi di dalam RAM, namun dengan mode kompresi on-the-fly disk. Blok yang sudah dibuat dengan ZRAM nantinya bisa digunakan sebagai memori SWAP atau untuk menyimpan temporary files(/tmp).
Cara Mengaktifkan ZRAM Pada Raspberry Pi
Buka terminal Raspberry Pi kemudian unduh script dengan cara menginputkan command berikut:

sudo wget -O /usr/bin/zram.sh https://raw.githubusercontent.com/novaspirit/rpi_zram/master/zram.sh


Jika script sudah diunduh, ubah perijinan script menjadi executable dengan menginputkan command berikut:

sudo chmod +x /usr/bin/zram.sh


Edit file /etc/rc.local supaya script bisa berjalan otomatis ketika booting.

sudo nano /etc/rc.local


4.Tambahkan teks berikut di file rc.local di baris sebelum exit 0

/usr/bin/zram.sh &


Tekan CTRL X kemudian "Y" untuk menyimpan file. Kemudian reboot. Maka fitur ZRAM Anda telah aktif.
Selamat Mencoba!!!
All trademarks, company names, product names and trade names are the property of their respective owners. All softwares are copyright by their respective creators and/or software publishers.
---