Carrier Board buatan Seeedstudio yang kompatibel dengan modul Jetson Nano, Xavier NX, dan TX2 NX. Carrier board ini memiliki ukuran yang kecil, walaupun kecil base board ini memiliki banyak port antarmuka untuk menghubungkan NVIDIA modul seperti Jetson Nano dan Xavier NX dengan banyak peripheral eksternal.
Walaupun memiliki bentuk fisik yang berbeda dengan carrier board untuk modul NVIDIA pada umumnya, board ini memiliki fungsi sama dengan carrier board yang digunakan oleh modul NVIDIA seperti support sistem JetPack yang dapat digunakan untuk keperluan deep learning, computer vision, GPU computing, dan sebagainya.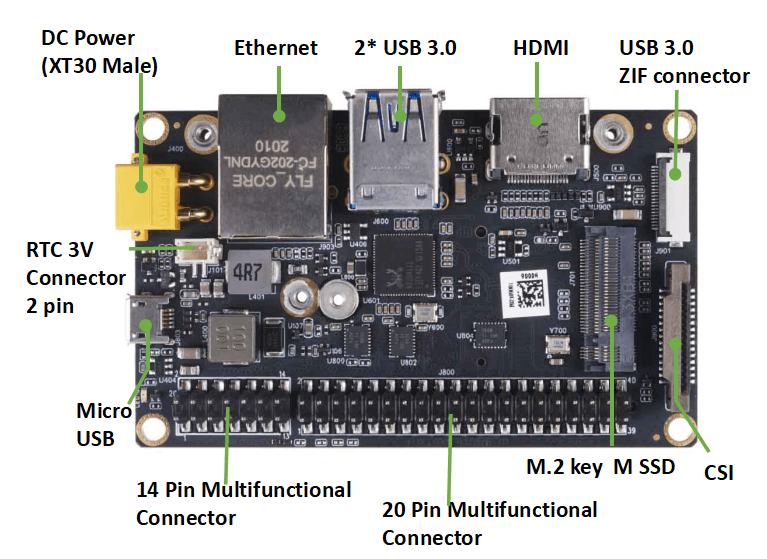 Fitur :
Kompatibel dengan Varian Modul NVIDIA seperti Jetson Nano, Xavier NX, dan TX2 NX
Memiliki Banyak Port Antarmuka Peripheral
Memiliki Ukuran yang Kecil
Memiliki Port untuk SSD, WiFi, Bluetooth, dan sebagainya
Bisa Diaplikasikan untuk Keperluan Robotika dan IoT
Tersertifikasi FCC CE RoHS
Spesifikasi :
DC Power : DC Input Power TE Connector
NVIDIA Jetson Nano/NX/TX2 NX : Nano/NX/TX2 NX 260 Pin Connector
USB 2.0 : USB 2.0 Micro-AB Connector
USB 3.0 Type A : 2x USB 3.0 Link 1 Type-A Connector
USB 3.0 ZIF Connector : USB 3.0 0.5mm Pitch 20 Pin ZIF
HDMI Port : HDMI Right Angle Vertical Connector
NVIDIA Gigabit Ethernet : RJ45 Gigabit Ehternet Connector (10/100/1000)
FAN Connector : Picoblade Header
SD Card : 1x MicroSD Card Slot
M.2 Key E : PCI-E 2230 Size
CSI Camera : 1x CSI Camera
RTC Connector : 3V, 2 Pin
M.2 Key M Disk : Disk Size 2242
Multifunctional Port : 2.0 Pitch 40 Pin (UART, GPIO, SPI, dan lain-lain)
Multifunctional Port : 2.0 Pitch 14 Pin (Reset, CAN, Recovery, dan lain-lain)
Dimensi : 87 x 52 x 26mm
Paket Penjualan :
1x A203 V2 Carrier Board
1x Power Adapter 90W 19V (Tidak Termasuk Kabel)
1x Exchange Line (XT30 Female to DC Power Jack Male)
Perhatian !
1. Ketika menggunakan modul Jetson Nano, M.2 Key E pada carrier board tidak dapat berfungsi, namun M.2 Key M dapat berfungsi.
2. Ketika menggunakan modul Jetson Nano, antarmuka CAN tidak dapat berfungsi.
3. If want to burn OS into the module. First, enter the recovery mode, find 14 pins IO on A203 V2, and connect pin 3 (Recovery) to GND with a jumper line.
Dokumentasi :
1. Spesifikasi A203 V2 Carrier Board (Link)
2. A203 V2 Pin Description (Link)
Produk Terkait :
1. Carrier Board for Jetson Nano / Xavier NX / TX2 NX
2. Jetson Nano Jetson Xavier NX Carrier Board
3. NVIDIA Jetson TX2 NX Module
4. NVIDIA Jetson Xavier NX with 16GB EMMC