UPS Module for Raspberry Pi Pico Uninterruptible Power Supply merupakan sebuah shield modul yang didesain khusus untuk Raspberry Pi Pico. Modul ini dilengkapi dengan 1 slot baterai 14500 holder sehingga dapat dipasangkan dengan baterai tipe 14500.
UPS modul ini dapat digunakan untuk mengisi daya pada baterai yang dipasang pada slot baterai holder dan pada waktu bersamaan dapat menjalankan Raspberry Pi Pico sehingga proses pengisian daya dan pemberian daya pada Pi Pico dapat dilakukan dalam satu waktu bersamaan. Dengan UPS modul ini catu daya dari baterai dapat disupplay oleh baterai 14500.
Modul ini juga dilengkapi dengan antarmuka I2C sehingga data status dari baterai dapat diolah oleh Raspberry Pi Pico yang kemudian dapat ditampilkan melalui LCD karakter seperti LCD 16x2 maupun LCD grafik seperti OLED.
Fitur :
Dilengkapi dengan pin header yang kompatibel dengan pin header Raspberry Pi Pico
Dilengkapi I2C sebagai antarmuka dalam komunikasi datanya
Dilengkapi dengan rangkaian proteksi untuk pengisian daya berlebih, arus berlebih, hubung singkat, dan polaritas catu daya terbalik sehingga akan menjaga baterai dan Raspberry Pi Pico tetap aman
Dilengkapi dengan LED indikator untuk pengisian daya, kapasitas daya baterai, dan indikator sebagai peringatan saat baterai tidak terhubung dengan benar
Spesifikasi :
Recharge Voltage : 5VDC
Antarmuka : I2C
Battery Support : 14500 Li-On Battery (tidak termasuk)
Dimensi : 60 x 21 mm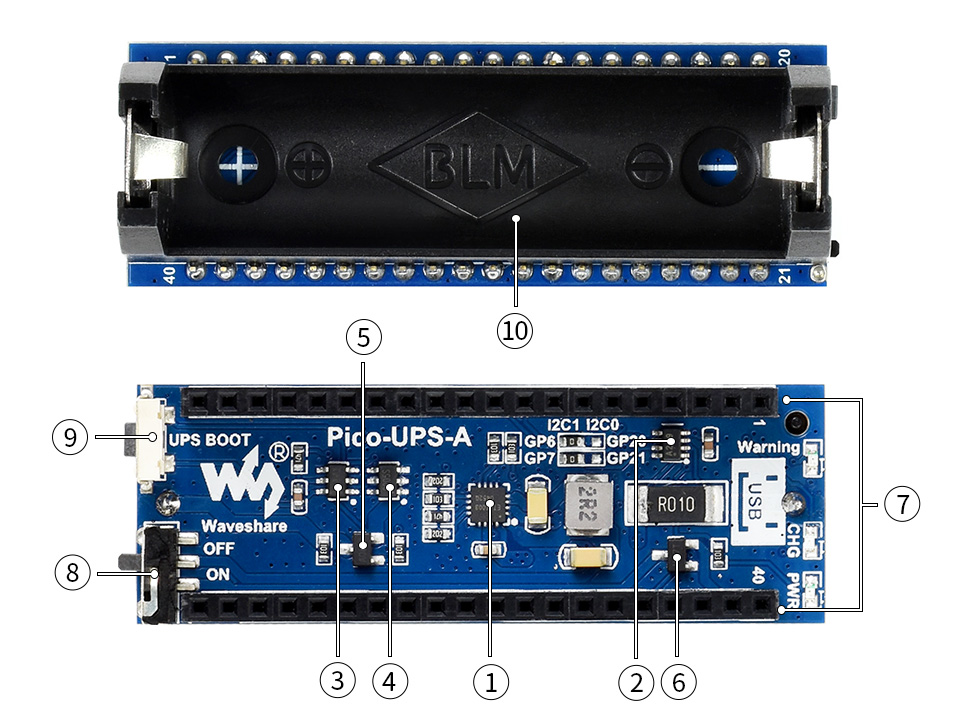 Detail :
1 - (ETA6003) : Recharge Chip
2 - (INA219) : Voltage/Current Monitoring Chip
3 - (S8261) : Li-ion Battery Protection Chip
4 - (FS8205) : Li-ion Battery Protection MOS
5 - (A03400) : Reverse-Proof MOS
6 - (SI2305) : Counter Current Preventing MOS
7 - (Raspberry Pi Pico Header) : for Direct Attaching to Raspberry Pi Pico
8 - (Power Switch)
9 - (Activate Button) : Activate the Protection Circuit After Replacing Battery
10 - (14500 Battery Holder)
Perhatian !
Belum Termasuk Raspberry Pi Pico Board
Dokumen :
1. Wiki
Produk Terkait :
1. Raspberry Pi Pico High Performance RP2040 Microcontroller Board
2. Li-ion Battery HAT for Raspberry Pi
3. GSM GPRS Bluetooth HAT for Raspberry Pi
4. RS485 CAN HAT for Raspberry Pi